Using filters brings increased creativity and drama to photography across many different genres whether shooting architecture, landscapes, portraiture and many more.
This photo of Lake Mono, California was taken with a Manfrotto Circular Polarizing Filter to enhance the colours of the spectacular sunset.
However, conventional filter systems can be fiddly, frustrating and time consuming to use. In fact, many photographers and videographers find the process of changing filters tricky especially when out in the field. Often, when using filters we can be surrounded by some form of inclement conditions for example dust, high winds and water – all elements that can potentially damage glass on lenses and filters or cause problems within the final image. This means the quicker a filter can be applied the better.
It is also hugely advantageous to speed up applying filters to a lens for another reason; taking time screwing on a filter can mean missing the crucial shot. This could be the passing of golden light, being too late to capture a stunning sunset or having a friend, model or pet become inpatient whilst you struggle to change from one filter to another; it's often not possible to go back and photograph that moment again.
However, The Manfrotto XUME system means we no longer have to screw around wasting time and risk missing that perfect shot. This frees you up to concentrate on capturing the moment before it disappears. But how does it work?
It's incredibly simple yet remarkably innovative. Manfrotto's Xume works with magnets to allow filters to attach on and off the front of the lens. The system consists of three elements; a lens adaptor, a filter holder and the filter itself.
Firstly, you apply the lens adaptor to any of your lenses and then attach a filter holder to each one of your filters.
Once you've done this, they simply snap together allowing filters of any type or size to quickly snap on or off any lens. This sturdy and strong magnetic system ensures the filters won't fall off but still maintain a sleek profile on your lens. This helps ensure no damage is done to your equipment.
The Manfrotto XUME system is compatible with filters of any type whether Circular Polarizers (CP), Neutral Densitys (ND) or UVs allowing you to quickly change the type of photograph you want to take without wasting any time. Further, there is no need to worry about any additional moving parts. The adapters are available in eight standard sizes from 49mm to 82mm.
This means that the system completely covers your shooting needs whichever brand you shoot with. I would also recommend buying adapters and holders for all of your lenses and filters so you have a fully integrated system to help speed up your workflow. Indeed, this quick and innovative way to attach filters to lenses is going to save you so much time and subsequently lead to the creation of better imagery.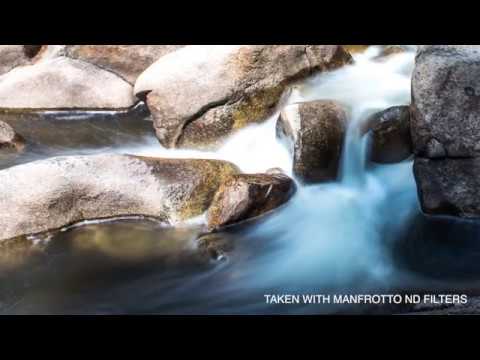 As filters allow for extra creativity, the Manfrotto filter suite and Xume System mean I can quickly change the effect I want to create on photograph whilst on location. For example, In this instance, I had a UV filter applied to protect my lens was in the presence of a waterfall that I wanted to make look beautifully soft, silky and smooth using a long exposure. I needed to change filter to an ND to achieve this but, was concerned about water splashing near my lens and subsequently leaving water droplets all over my final image.
However Manfrotto's quick, innovative Xume system meant I can very quickly snap the UV off and an ND on to get the desired effect whilst avoiding getting water drops getting onto my glass and seeing them in the final frame.
In this photograph, where the Manfrotto ND64 Neutral Density filter was used, I minimized the amount of water drops present in the final frame due to how quickly I could apply the filter despite being very close to the waterfall.
The advantage to be able to quickly change from one filter type to the other cannot be understated. Whether you are on location in a freezing cold climate where hands are cold and gear is difficult to handle or a dusty desert where damage can be done to equipment, being able to snap a filter on quickly and easily rather than have to screw each one on individually in a fiddly way is incomparable. For example, here I swiftly switched from a neutral density filter to a circular polarizer with a quick magnetic snap to provide my final image with increased saturation, enhanced colour and a deeper contrast. CP's can also eliminate unwanted reflections from non-metallic surfaces and help reduce glare and haziness.
In this image, looking through a Manfrotto CP filter at Half Dome in Yosemite National Park, (the mountain on which the North Face logo is based) you can clearly see how the Circular Polarizer brings out the blue in the sky more vividly, allowing the whites in the clouds to be more bold whilst also reducing haziness to bring greater clarity to the rock face.
Here is another view of Half Dome taken about 10 minutes later through the same Manfrotto CP filter. The maximum level of polarization means colour and saturation are boosted and contrast enhanced.
The use of filters is not limited to colour imagery. Here, a Manfrotto ND500 neutral density filter meant I could make the fast moving waves of the Pacific Ocean appear more calm, still and serene. The filter allowed me to cut the light by approximately 9f stops that allowed me to use a long exposure to give the water a mystical fog-like appearance. This artistic effect is accentuated in black and white.
Moreover, the system also allows you to snap your lens cap onto your lens. However, this is currently only available in the 77mm size. Nevertheless, this is incredibly useful as we all know how annoying a lost lens cap and how frequently it occurs.
Manfrotto's Xume system allows you to easily snap your lens cap on when teamed with an adaptor or their own dedicated lens cap with ease and no hassle.
Therefore, I believe Manfrotto's revolutionary Xume magnetic solution for filters is a groundbreaking product – it's fast, easy to use, securely locks my filters in place and works with all of my lenses and filter types leaving me more time to concentrate on making pictures rather than just taking them.